Visiting gym and opening hours
Gym is open for members every day from 6.00-24.00.
Gym is open to one-time ticket holders whenever the cash register at Reenis main space is open, check opening hours here. You can buy a one-time, monthly or annual card from our online store, but they must be activated at checkout. A member can enter through the door via an electronic link to members, which requires a smartphone or other device to open the electric door from a web browser.
Where?
Reenis GYM is located at Paakakatu 2, about 100m away from our main building. Access to the space is via a cage staircase.
To whom?

The GYM is located on the second floor and you have to go there by stairs, you cannot get to the room in a wheelchair. The minimum age in the weight room is 15 years of age. Younger people are only allowed to train in the gym under an adult supervisor / coach / instructor. No small children are allowed in the gym for your own training!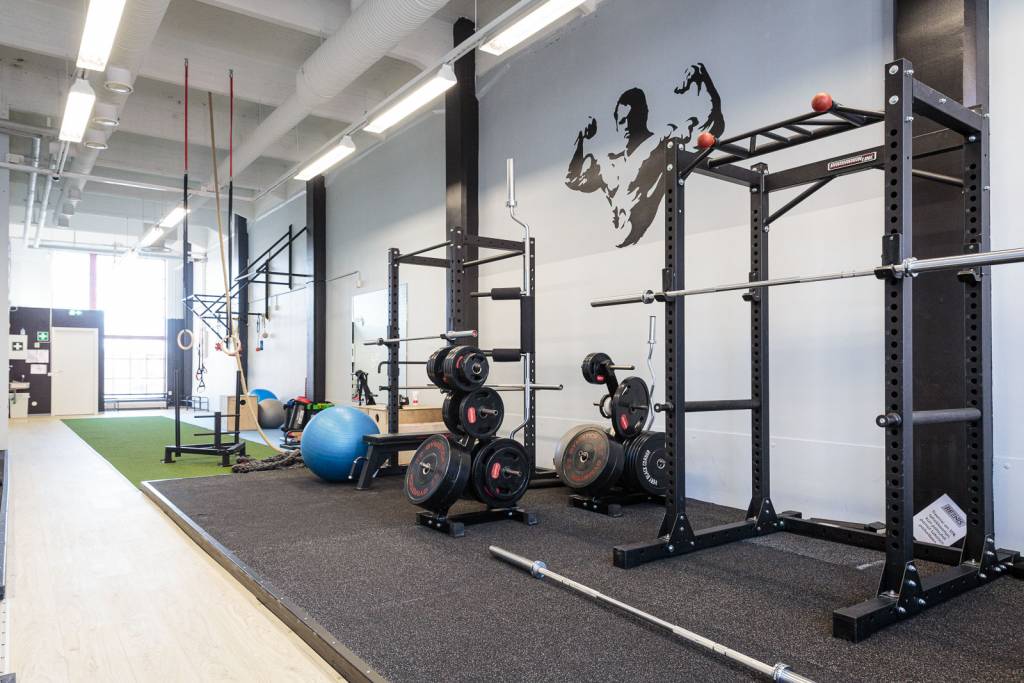 Equipments
Our gym is build mainly for functional training
Warm up area:
Treadmill
2 * assault bikes
Row machine
Dumbbells
Pulley station
Back extension machine
Lifting area
Squat rack * 3
Olympic lifting allowed
Trap bar
Other:
Kettlebells
Artificial grass for provler
Sandbags
Dip bars
Pull up bars
Plyo boxes
Modified weight vest up to 90 kg
Battle rope
Landmine
Rope climbing
Gymnastic rings
Wall balls
Medicine balls
Fitness bands
Yoga blocks, yoga wheel
Rules
Opening hours and using the member key
Always open the door from the browser link(members)
Using and buying one time ticket's is possible during the opening hours of the reception
Opening hours are being told on our frontpage. Members can access the Gym 6-24. Members must make sure they exit gym before the end of a closing time
If the customer causes the alarm outside the opening hours, customer must reimburse the costs of the alarm.
The member / customer must ensure that the front door is locked when entering and exiting.
The member / customer must not admit anyone who has not paid the entrance fee.
The member / customer is responsible for the behavior of the persons entering at the same time and is obliged to compensate for any damage they may cause.
Respect other users and remember good manners. Give others access to the equipment between sets.
Give others their space, don't comment on others bodies.
Always clean up your own. Use only liquid magnesium!
Get your personal hygiene in shape! Also, avoid excessive use of perfume.
Alcohol, narcotics and doping substances must not allowed. Smoking and the use of e-cigarettes are not allowed indoors. Their use and / or sale is prohibited and will cause termination of membership with immediate effect without a refund of any unused membership period or membership fee.
The customer must fully compensate for any damage caused to the furniture, property or equipment as a result of misuse.
Always notify Reenis staff of any broken or serviceable equipment.
The member undertakes to follow Reenis' general rules, instructions for use and the instructions and prompts of the staff. Accepting membership and receiving a card at Reenis always requires filling waiver. You can fill in the form on site at Reenis or on our website www.reenis.fi/kayttoehdot/
Skill and yoga space
Our skill and yoga space next to gym is open for gym members outside the booked times. You can book the space for private use here
Rules of use of the skill and yoga space
The skill and yoga space is primarily used by structured courses and groups. Wait for the structured classes to end before entering the space
Skill and yoga room is available to GYM members outside of booked times between 6 a.m. and 12 p.m
Clean up all your traces and put things back in their places after use
Yoga silks are rented for use only with a separate agreement
Training at your own risk, avoid doing dangerous movements when training alone
Jumping on Airtrack only with socks or bare feet
No eating, alcohol or drugs/doping
Tilat varattavissa pelkästään omaan käyttöön nettisivujemme kautta: